Weekly, Fortnightly or Monthly Subscription

LOVE IT? SUBSCRIBE!

FREE SHIPPING ON ORDERS OVER $100
Taste & Experience

Join The Herd

Packing a protein punch, Biltong is a healthy snack that is great on the run or for the diet conscious.

For the campers, hunters or hikers amongst us – you'll struggle to find other snacks that don't mind being stored in your pocket, that have the same nutritional value and are as filling as biltong! And for you desk jockeys, this is an easy way to make your colleagues very jealous.

No doubt they'll be asking for a piece.
Absolutely awesome. Moist and full of flavour. The chilli packs a real kick, definitely my favourite. Will be ordering more! Peter Hanna - The HERD Biltong's #1 Fan
Discover

Our Biltong

Featuring 4 amazing flavours to cater to all taste buds. Free Shipping on orders over $100!
The Flagship

Chilli Garlic
Ingredients

Black pepper, toasted coriander seed, dehydrated garlic, and a good amount of heat from the crushed chilli flakes.

Flavour

A good whack of garlic with a bit of heat towards the back end. Our Chilli Garlic flavour has been known to turn the "we-don't-like-biltong" crowd into the crowd that makes that face when they realise their stance on biltong may have been wrong their whole life.

Available Sizes

100g, 250g, 500g, 1kg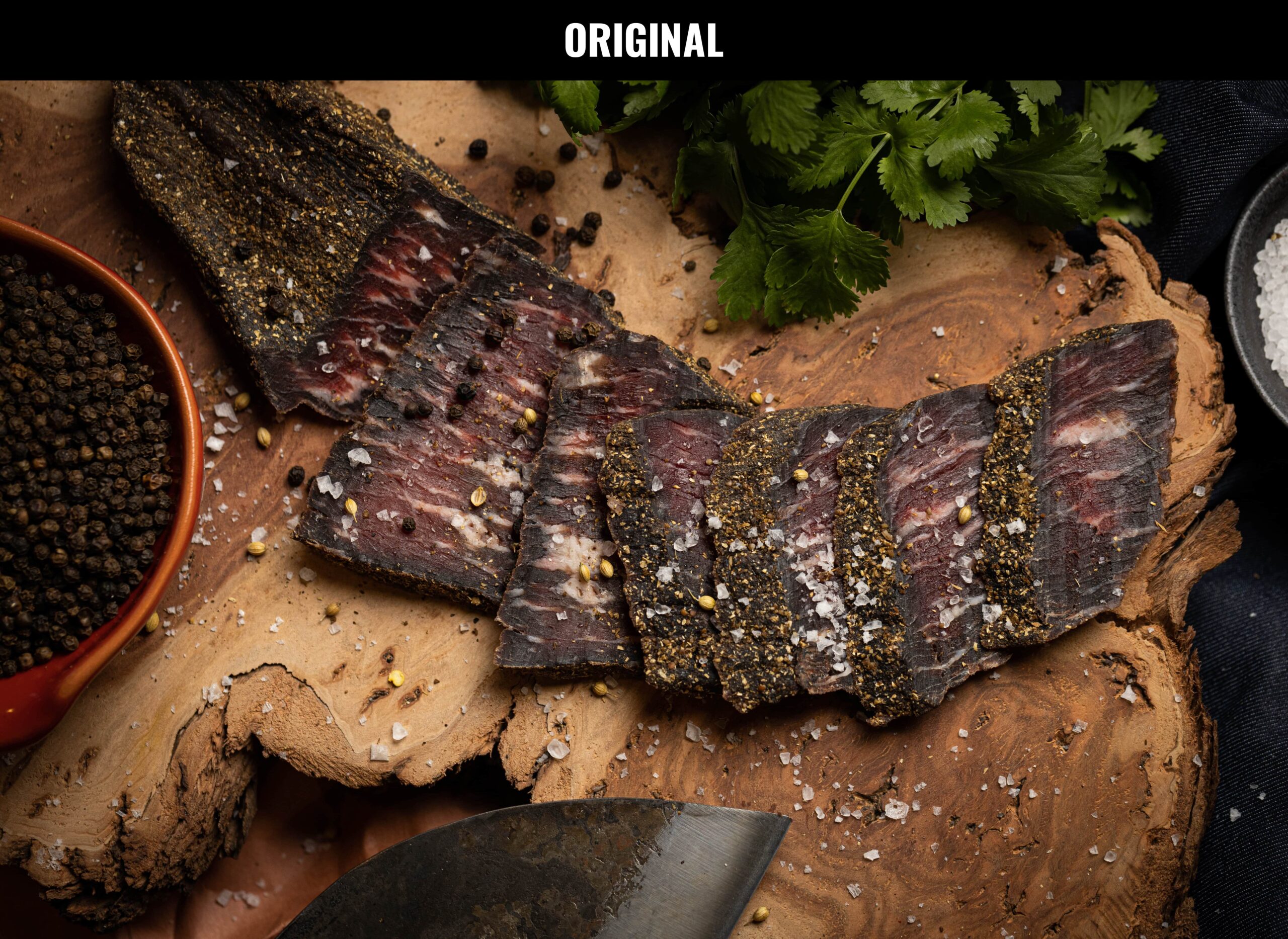 The Grand-Daddy

Original
Ingredients

A blend of salt, finely ground black pepper and toasted coriander seeds.

Flavour

Our Original flavour comes from a recipe based on heritage, but modernized to wow your taste buds. There is no sweetness and no heat here (unless you find pepper spicy). Just soft, melt in the mouth morsels of meaty goodness.

Available Sizes

100g, 250g, 500g, 1kg
The Crowd-Pleaser

Garlic Salt
Ingredients

Salt, black pepper, coriander seeds and dehydrated garlic.

Flavour

Having guests over? We've got you covered. This is the non-offensive cousin of the chilli garlic flavour with no heat whatsoever. We are going for big bold flavours. Breath mints not included.

Available Sizes

100g, 250g, 500g, 1kg
The Fiery Newbie

Chilli Salt
Ingredients

Salt, black pepper, coriander seeds, and a good amount of crushed chilli flakes.

Flavour

Salty and spicy. The latest flavour in our repertoire and our personal favourite. Made for those who aren't the biggest fan of garlic and aren't afraid of a respectable amount of heat - the more you eat the more the more intense the heat gets.

Available Sizes

100g, 250g, 500g, 1kg
Who We Are

The HERD Biltong

The Herd Biltong provides fresh, high quality biltong based out of Queensland, Australia.

What separates us from the rest?

We use no preservatives in our product. It's all made from natural Australian based ingredients.

We bag, chop then vacuum seal our biltong and droewors within 24h of coming out of our drying cabinet. Vacuum sealing preserves the quality of the product without the need for moisture/oxygen absorbing sachets which can sometimes deteriorate the flavour of biltong.
Introducing

The Secret to Our Amazing Recipe
100% Premium Aussie Beef
Quality meat yields a quality product. We use 100% Premium Aussie grain-fed beef in our biltong.
Superior Ingredients & Spices Combo
Our Biltong comes from a recipe based on heritage – the same ingredients utilised in the same traditional way, but we've modernized ancient techniques and are able to produce a very, very good product. We feature a good blend of salt, finely ground black pepper, toasted coriander seeds, crushed chilli flakes, and dehydrated garlic.
Handcrafted With Love
We love to transfer our passion through our product to our customers. Every piece of biltong is handcrafted with skill, experience, care and love, through the respect of our South African heritage channelled into the finessing of our product.
The Goods Makers

The Team behind the Tong

The Herd Biltong was founded by a handsome chap named Jared Abrahamse (myself) and his gorgeous partner Olivia Barbato.

Jared is a first generation Australian with a long ancestry of South African's mainly based in Cape Town. Jared had worked in commercial kitchens as a youngster but migrated careers in search of a larger wage, despite always having a profound passion and enthusiasm for the art of cooking.

Olivia also shares this passion and has a keen eye for design and photography.
All Australian Beef and Superior Ingredients are what separates us away from the rest. You will not find silica sachets here! #saynotosilica Jared ``TongLord`` Abrahamse
Like our Biltong?

Follow Us

Follow us on Instagram and Facebook to check out our amazing offers, or simply show us some love!
Our 5-Star Customer Reviews

What Our Customers Say
recommends
OMG received our first order (garlic and chilli garlic biltong; drywors) today and it is so yum!!! I am seriously considering a monthly order😃😋
recommends
The biltong is the best biltong I have had in Australia. Jared is excellent and extremely efficient. I would highly recommend it
Sunnie Dasgupta
2021-08-03
recommends
I ordered the plain garlic biltong and some of the droewors, I recieved it very quickly and beautifully packed! All of it was vaccum sealed and tastes amazing! The garlic biltong is my new fave, would highly recommend for stress eating whilst in lockdown 😄
Piyaa Mejia Gutierrez
2021-07-28
recommends
Arrived the day after delivery! Friendly and great communication from Jared. Super delicious! The kids absolutely loved it too! Will definitely get some more soon! Totally worth the wait! 🤤🤤 P.s. I got 1.1kg and it will definitely not last more then a week haha
Geoffrey Ronayne
2021-07-27
recommends
I have only ever tried commercial "jerky" in the past a handful of times. I didn't think it was bad at all, I saw this page pop up and bought instantly as a no brainer "treat yoself" purchase and I now have inevitably signed up for a monthly purchase. 10/10 definitely recommend, my mouth is still watering and it's still breakfast time 👍🏼
Luke Hbomb Cranston
2021-07-24
recommends
Just found these guys a few days ago and as a lover of biltong let me tell you these guys nailed it, the garlic biltong is delicious and for the spicy lovers out there try theirs it is bloody hot 😂😂 but all in all great service speedy delivery give you guys a 10/10 keep up the good work guys
recommends
Absolutely awesome. Moist and full of flavour. The Chili packs a real kick definitely my favourite biltong I've tried. Will be ordering more
Leanne Knowles
2021-05-19
recommends
Great biltong love the garlic one and chilli and garlic yummmm not hard and dry. Moist and delicious 👍👍👍
recommends
Got my order today 10/10 perfect 👌🏻👌🏻 flavours r spot on, highly recommended people, have a try, u won't be disappointed 👌🏻👌🏻
recommends
Just picked up 1kg of the garlic biltong! What can I say! Most amazing biltong I've tasted! Well packed and great flavour! Amazing service too! Thank you
Taste Our Amazing Biltong

SHOP NOW